SRRC
SRRC is a compulsory certification requirement of the National Radio Regulatory Commission. All radio products sold and used in China must obtain the approval and certification of radio models. The main content of model approval is to verify the frequency, frequency band, transmission power, frequency tolerance, occupied bandwidth (or spectrum characteristics of the transmitted signal), out of band transmission and spurious transmission and other spectrum parameters of the radio transmitting equipment. These spectrum parameters are directly related to whether the limited spectrum resources can be used scientifically, whether the air wave order can be effectively protected, and whether the radio safety can be effectively guaranteed. Testing and certification of radio equipment before entering the market is a common practice of radio management departments all over the world. It is an important technical management means to reduce radio interference from the source and ensure the scientific, reasonable, effective and unified use of spectrum resources.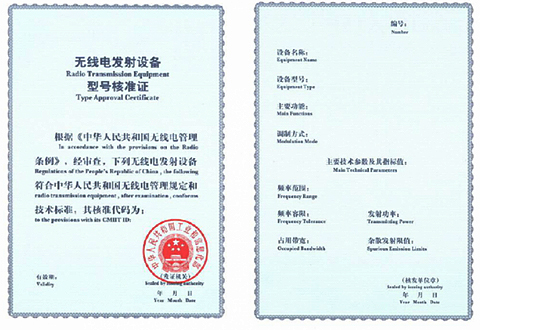 Is SRRC certification compulsory?
SRRC is a compulsory certification. According to the regulations of the people's Republic of China on radio administration, if the radio transmitting equipment manufactured or imported for sale or use in China has not obtained the type approval, the radio administration shall order it to rectify and impose a fine of more than 50000 yuan but less than 1 million yuan.
Is SRRC certification required for selling radio products on e-commerce platform?
On January 1, 2019, the national e-commerce law was implemented, and the e-commerce platform strengthened the control of CCC certification, SRRC certification and quality inspection report. A large number of enterprises' products are forced off the shelves due to lack of certification. The radio products without SRRC model approval qualification will not be allowed to be sold, and the products already sold will be randomly checked, and the enterprises violating the regulations will be fined accordingly.
National Service Hotline400-1668-320
Contact
Business consulting:400-1668-320
after-sale service:0755-23720636
Enterprise mailbox:info@cmczj-lab.com
Shenzhen Headquarters:1 / F, building B, kaihuimao Industrial Park, Liyuan Road, Heping community, Fuhai street, Bao'an District, Shenzhen