KC
KC certification concept
Introduction: South Korea's Ministry of knowledge and economy (mke) announced on August 25, 2008 that the national standards committee will implement a new national unified certification mark from July 2009 to December 2010, named KC mark, representing Korea certification. Electrical appliances Safety Certification System (KC certification) is a compulsory and self-discipline (voluntary) safety certification system implemented in accordance with electrical appliances Safety Management Law. It is a manufacturing / sales system with safety certification.
Distinction between compulsory certification and self regulatory (voluntary) safety certification:
For the safety management of electrical appliances, compulsory certification and self-discipline (voluntary) safety confirmation certification are divided according to the hazard degree.
"Compulsory certification of electrical appliances" refers to those electrical appliances that are easy to cause fire, electric shock and other greater risks and obstacles due to factors such as structure or use method.
"Self discipline (voluntary) safety confirmation electrical appliances" are relatively simple in product structure and use method, which are not easy to cause fire, electric shock and other major hazards and obstacles. Electrical appliances that can prevent hazards from happening can be tested.
Object of application for safety certification: all enterprises (legal persons or individuals) producing electrical products, assembling and processing at home and abroad.
Safety certification system and methods:
Apply for certification by product model, including basic model and derivative model.
In order to distinguish the design of models and electrical appliances, the products with different functions are given their own inherent product names.
▍ for KC certification of lithium battery, the simplest and most favorable scheme is to conduct CB certification first, and then convert to KC certification after CB certification.
1. Change of KC certification standard for lithium battery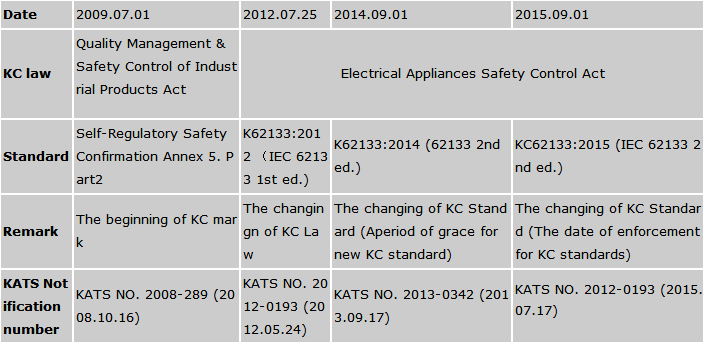 1、 便携式设备(可移动设备)中使用的锂二次电池;
2、 作为电池使用而销售的电芯,做电池组成部分的电芯不在这个范围;
3、 使用动力在500Wh以上的电池的电能储存装置和不间断电源除外;
4、 体积能量密度比低于400Wh/L的电池从2016年4月1日纳入认证范围。
3、K62133:2012和KC62133:2015测试项目对比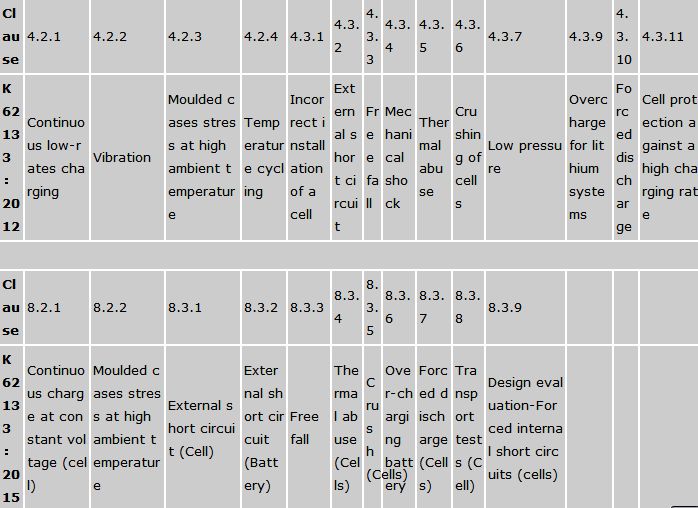 4. Model division of lithium battery series
On the premise of satisfying certain conditions, lithium battery can be applied for series (multiple models), only one basic model in the series can be tested, and the series is divided as follows:
Cell:
1. Category of electric core: A. lithium ion electric core; lithium polymer electric core
2. Shape of electric core: A, cylindrical; B, diamond
3. Main materials of electric core: A, positive B, negative
4. Form of electric core: A, soft package B, hard shell
5. Capacity division of electric core a, cylinder - < 2400mAh; > 2400mAh B, diamond / lithium polymer ≤ 1500mah; < 3000mAh; < 5000mAh; > 5000mAh
6. Upper limit charging voltage: ≤ 4.25v; > 4.25v
7. Series parallel connection: A. no series connection, parallel connection B. No series connection (the protection IC of the battery is the same as that of another battery)
8. Protection device and specification requirements are the same, fuse, PTC, IC, etc
National Service Hotline400-1668-320
Contact
Business consulting:400-1668-320
after-sale service:0755-23720636
Enterprise mailbox:info@cmczj-lab.com
Shenzhen Headquarters:1 / F, building B, kaihuimao Industrial Park, Liyuan Road, Heping community, Fuhai street, Bao'an District, Shenzhen